Saturday December 4th, 2021
The Fairview District & Chamber of Commerce is pleased to announce the First Annual Christmas Carnival & Parade in collaboration with our municipal partners, local businesses and organizations.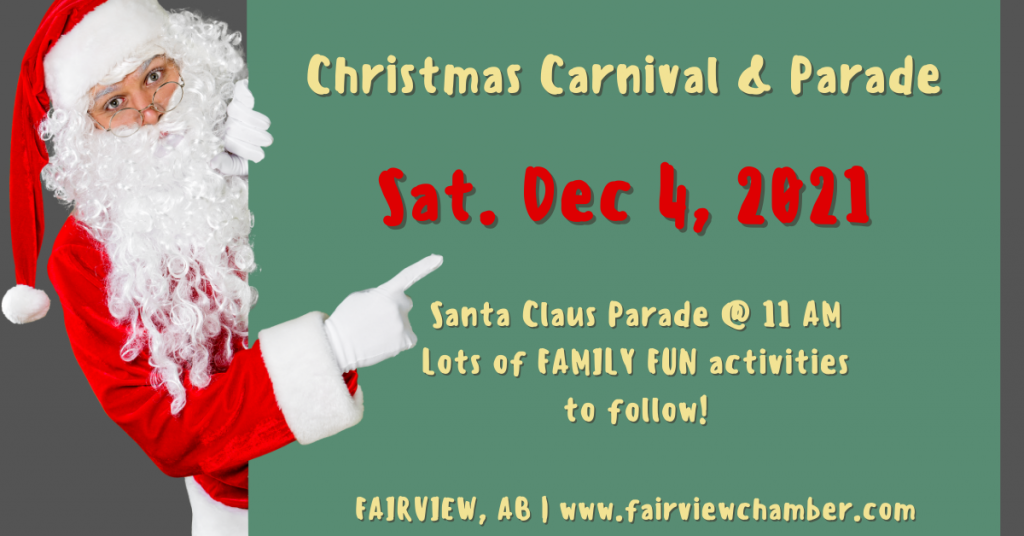 This FAMILY FUN filled afternoon is our way of saying THANK YOU for supporting LOCAL BUSINESSES and your COMMUNITY!
Annual Santa Claus Parade | 11 AM | FREE
Main Street | Down 110 St – 101 Ave – 108 St
Sponsored by Local Businesses & Organizations
---
Pictures with Santa | 12 PM – 4 PM | FREE
Fields Building | Safe Pictures with Santa. Take home a free kids photo with Santa that day! Please choose a 30 minute time slot, to help limit crowding and long wait times. Packages available for purchase.
Sponsored by Cold North Computers | Venue Sponsored by Freson Bros.
---
Carnival Games & Prizes | 11:30 AM – 4 PM | FREE
RESTRICTION EXEMPTION PROGRAM (REP) IN EFFECT
Legion Hall | Fun Carnival Games with PRIZES!
Sponsored by Westside Community Church | Fairview & District Chamber of Commerce
---
Ice on Whyte | 10 AM – 5 PM | FREE
Hemstock Park | Sculpture presentation & little chippers program for kids to master an ice creation with professional ice carvers. Lil' Chippers 11 AM – 3 PM.
Sponsored by the Town of Fairview & M.D. of Fairview No.136
---
Dash for Cash | 9 AM – 6 PM
Solve the Passport to Christmas Window Riddles & WIN Chamber Change! ENTRY FEE: $5 Individual, $10 Team, $20 Family. Call Elements @ 1-877-226-7843 to enter.
Sponsored by Elements the Compass of Health & Victim Services
---
Shopping With the Elves | 2 PM – 4 PM
Great Canadian Dollar Store | With the assistance of their own Personal Elf Shopper, all ages will have the opportunity to experience the joy of giving gifts they have personally selected from the shelves. Elves will do the wrapping!
Provided by the Great Canadian Dollar Store | Volunteer Elves CIBC
---
Warm Up by the Fire | 10:30 AM – 4 PM | FREE
Rexall Drugstore Parking Lot | Enjoy some hot chocolate and warm up by the fire.
Sponsored by the Fairview & District Chamber | Fire Pit Donated by Cummings Lake | Venue Donated by Rexall
---
Horse & Wagon Rides | 12:00 PM – 4:00 PM | FREE
Pick up Near Fire Pit Area | Nothing says Christmas like a wagon ride!
Sponsored by the Fairview & District Chamber of Commerce
---
Public Swim | 3:00 PM – 5:30 PM | Aquatic Centre | FREE
RESTRICTION EXEMPTION PROGRAM (REP) IN EFFECT
Sponsored by Watchorn Builders
---
If you have any questions please do not hesitate to CONTACT US
Fairview & District Chamber Office @ 780-835-5999 or manager@fairviewchamber.co