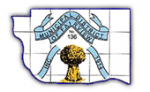 About Us
The Municipal District of Fairview No. 136 was incorporated in 1914.
When entering the MD for the first time you will descend into the beautiful Peace River Valley and then cross over the unique and breathtaking Dunvegan Bridge, the longest gravity-anchored suspension bridge in Alberta.
Council has adopted the "Code of the West" as a philosophical guideline for our Municipality.