About Us
Our mission is to provide basic and advanced preventative, emergency and comprehensive dental care in a friendly, modern facility and comfortable atmosphere in rural Alberta/Peace river country.
We offer direct billing!
Business Address
10305 - 110 St
Fairview, AB
About Us
This facility provides a range of healthcare services including a 24/7 emergency department.
Business Address
10628 - 110 St
Fairview, AB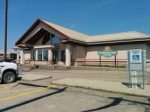 About Us
Open Monday - Thursday 8:30 AM - 5:00 PM, Friday 8:30 AM - 4:00 PM
Business Address
10624 - 110 St
Frederick Spirk Building
Fairview, AB