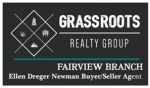 Services
Multi-Residential, Commercial, Farms, Vacant Land, Industrial, Acreages, New Home Sales, Hobby Farm, Rural, Mobile Homes, Relocations, Buyer Representation, First Time Buyers, Recreational, Agricultural, Cottage, Small Commercial, Carriage Trade, Retail, Investment
About Us
I have recently joined Grassroots Realty Group in the "FAIRVIEW BRANCH". I am a licensed realtor in the province of Alberta and I am here to help you With all your Real Estate needs.
Real Estate with Ease…!
Business Address
10205 110 St
Fairview, AB
(Office in R & R Insurance Building - Main Street)
About Us
Come rent an office in Fairview @ Lancaster Place.
Common Lunch & Meeting room included.
Offices of various sizes are available.
Business Address
10316 - 109 St
Fairview, AB

Services
Canada's Real Estate Company
About Us
Our office is headed by Lenny Basnett, owner and broker, who has over 30 years of experience in our area. Our agents are experienced, friendly, knowledgeable, and ready to help you!
Drop in and see us! We would be glad to help you with all your real estate needs.
Business Address
10912 - 103 Ave
Fairview, AB