Small Business Week Recap
YOUR ROCK STAR AWARD WINNERS & SPONSORS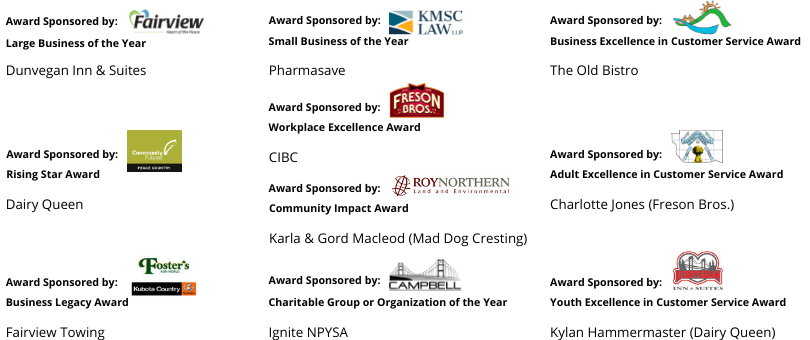 Congratulations to all Nominees, Finalists & Winners!
FUTURE ENTREPRENEURS ART CONTEST
We invited all young future entrepreneurs, grade 1 – 4 to Draw / paint / create a picture of the business they would like to own someday. Art was hung in the windows of Local Businesses during SBW. Thank you to all Future Business Owners for your submissions. Wow, it was hard to pick winners!
1st Prize – $50 Chamber Change | 2nd Prize – $35 Chamber Change | 3rd prize – $25 Chamber Change
1st Place – Gymnastics Studio
Shiloh Skoyen (Grade 3)
Hines Creek Composite School
2nd Place – Ocean Hotel
Jack Miller (Grade 2)
E.E. Oliver Elementary School
3rd Place – Vet Clinic
Janessa Moore (Grade 1)
St. Thomas Moore School
5 DAY – SHOP LOCAL ONLINE CONTEST
A daily Shop Local Challenge was announced on our Facebook Page starting October 18th. Participants who completed the challenge were entered into our prize draw.
Grand Prize – $250 Chamber Change | 2nd Prize – $150 Chamber Change
Grand Prize Winner – Rosanne Richardson